Ski Camp
SNOWBIRD SKI CAMP 2018-2019
Welcome to SNOWBIRD SKI CAMP!
SNOWBIRD SKI CAMP is a place where anyone who likes to ski can come and have lots of fun. Of course, it is OK if it is your first time skiing. If you come to SNOWBIRD you will become good at skiing very quickly. If you come to SNOWBIRD, you will make many new friends. If everyone becomes a snow bird, you can fly down the snowy mountains of the 21st century!

SNOWBIRD is the best camp for you to learn how to ski because...
Top-level instructors teach campers with passion, and the camp itself is a non-profit purpose.
Amidst the grandeur of snowy mountain landscapes, you can train your mind and spirit while skiing, improve your sensitivity to nature, and encourage the development of future world leaders.
Beginning skiers use the lift and cable car from an early time, and practice sliding down long courses. This method gives them big results.
With the aim of improving skills, SNOWBIRD Ribbon Prizes are provided. You can also take SAJ (Ski Association of Japan) Skill Test and Junior Skill Test.
Fluent English speaking staff and instructors are present throughout the camp.
Camp Schedule
2018 Camp Koumi:
December 26, 2018 to December 29, 2018
2019 Camp Kumanoyu:
March 26, 2019 to March 29, 2019
Brochure & Application
English: 2018-19 SNOWBIRD SKI CAMP Brochure 2018-19 SB Application form 
日本語: 2018-19 スノーバードスキーキャンプ(日本語) SB申込書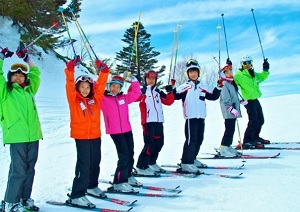 For more information, please contact us!